Does Kia Make a Truck?


Many Grosse Pointe drivers in the market for a new Kia may ask, "Does Kia make a truck?" Currently, Kia doesn't offer a truck in the U.S., but they do offer the Kia Bongo is a popular pickup truck in South Korea, Indonesia, and Australia, and features a unique cab-over-engine. Over the years, American buyers have heard about a truck being in the works from Kia with concepts and designs even being shown at events like Chicago Auto Show, but no plans for production were ever set. Read on to learn more about the Kia Bongo as well as some concepts that may soon become part of the Kia lineup.
Kia Mohave
Kia's decision to work on a truck has seen for many years, including a concept truck called the Kia Mohave that was shown at the 2004 Chicago Auto Show. Unfortunately, production was put on hold at the last second, and while there are rumors that it may be arriving in 2019, it may be put on hold again. Here's a quick look at what the Kia Mohave might offer should it ever reach the marketplace:
3.0L V6 engine
5-speed automatic transmission
A choice between two- and four-wheel drive
LED headlights
Leather upholstery
Kia Soulster
At the 2009 North American International Auto Show, Kia presented visitors with a look at the Kia Soulster. Here, Kia made a strong attempt to reinvent the popular compact pickup truck segment from the 80s and 90s. And, although it's unlikely to ever enter production, this model features an open back that resembles the bed of a pickup truck which may prove very intriguing to St. Clair Shores customers should this ever come to fruition.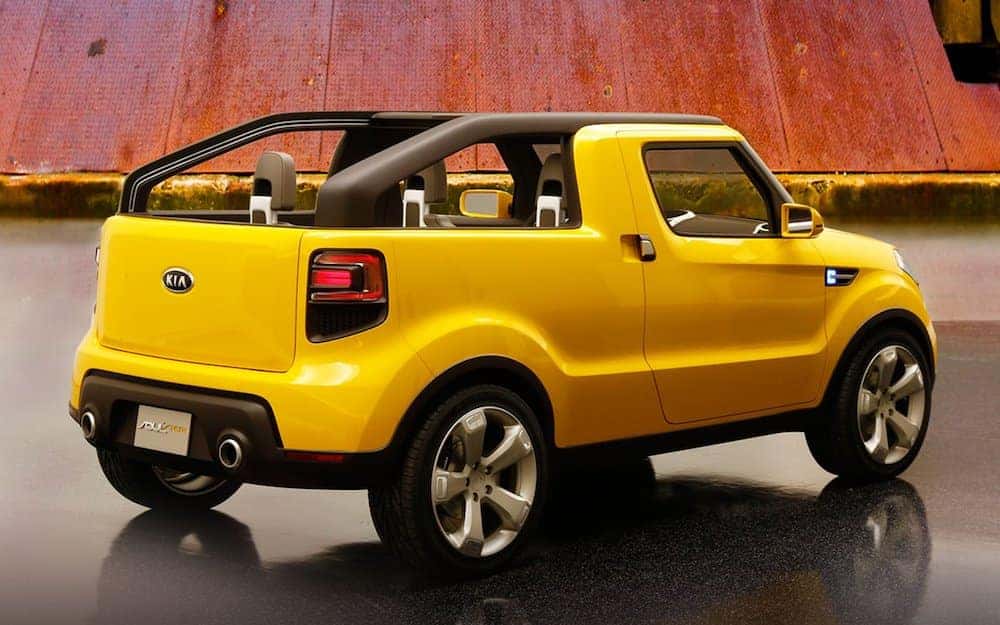 Kia Bongo
The Kia Bongo is the only Kia truck to have been in production since 1980 an has been assembled in South Korea, Indonesia, Ecuador, Uruguay, and Algeria. This cab-over-engine vehicle is much lighter for a commercial vehicle and offers standard, super, and double cabins. Customers can also choose the configurations that meet their specific needs whether it's a 130-hp 2.5L turbo, 80-hp 2.7L, or 85-hp 3.0L engine. The current engines come with a 6-speed gearbox and more efficient Euro IV standards. The Kia Bongo is also referred to the Kia K-Series, Kia Frontier, and Kia Kaon.
Learn More About Kia Vehicles from Jeffrey Kia in Roseville!
So for all of you truck lovers out there in Sterling Heights, Kia does offer a truck, however, it's currently not available to U.S. markets. If you have more questions about Kia or want more reliable information on Kia vehicles such as the great family vehicles Kia can offer, contact us today!
More About Kia Models
Grosse Pointe drivers love the cargo space offered by SUVs, and they're really going to be impressed with the 2021 Kia Seltos dimensions. This new Kia SUV offers more cargo space than competitors like the 2020 Toyota RAV4, without sacrificing passenger comfort and vehicle style. Take a look inside at the Kia Seltos cargo space and…

We don't know about you, but we don't like emptying our bank account to fill up our gas tank. Most of our Grosse Pointe customers don't like to, either. Maybe that's why they seem so impressed with the 2020 Kia Soul's gas mileage. We think you'll be impressed with the Kia Soul fuel economy, too, when…

If you're looking for a new crossover or SUV to tackle both weekend adventures and weekly errands alike? If so, the 2020 Kia Sorento towing capacity is likely of interest to you. Our team at Jeffrey Kia is happy to help you learn more about the 2020 Kia Sorento towing capacity today! We want you to…